Your choice of doors is a decision that's as important as any when planning a residential project. A discerning homeowner wants doors that are beautiful, durable and energy efficient. And, as we become more conscious of our responsibility to protect the environment, doors made with sustainable materials make the top of the list more often than those that aren't. REHAU door designs meet all of these criteria while offering an extensive variety of styles and functionalities.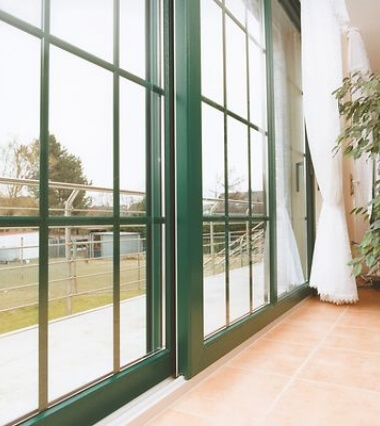 GU-thermostep 164, GU-thermostep 204
Take what comes to mind when you think of patio doors and put it aside. Designed to open up the spaces you live in, our sliding patio door designs are customizable, versatile and work equally well as the perfect solution for your replacement project, a new addition or new home construction.
The individual profiles and components of REHAU Euro-Design Slide have been designed in order to be combinable with other REHAU door systems to achieve different varieties of window and door configurations in a variety of styles and sizes. A multichamber technique utilizes the insulating effect of air and optimizes the good heat insulation.
REHAU Euro-Design Slide has a common construction depth of 60mm that offers versatility and is ideal in meeting requirements for renovation and new construction applications in residential and commercial buildings. It has an optimized frame to sash overlap of 8 mm that ensures tight clasp improving energy saving and avoiding water and dust penetration.
Open your home to nature
Open your home to nature and maximise your living space with REHAU's new SecuriSlide slide and fold doors and windows. This new generation multi pane system enables you make the most of home. The innovative slide and fold-away technology allows the user to move each individual pane of the door along the track to create a variety of opening sizes. The panes stack away neatly at the one side of the door to create the biggest opening possible.
Unlike the traditional folding doors, the panes do not run on wheels. Once the main panel has been opened, the other panes easily slide along a low-friction track. The SecuriSlide slide and fold doors and windows can be fitted with either single or double glazing for enhanced thermal and weather performance.
Flexible and easy to use
You will love the flexibility of the SecuriSlide slide and fold doors and windows. You can open just the main panel, or fold all the panels to one side for a full opening or even partially slide the panes across the opening for ventilation slits.
The fact that all the hardware, with the exception of the handle and profile cylinder, are concealed within the frame rebate means the doors and windows look fantastic and very easy to clean.
When the SecuriSlide panels are moved, they do not take up any space either internally or externally. Now you can place your furniture, plants and ornaments adjacent to the frame, increasing your usable living space!
The seamless simplicity of the design provides homes with improved aesthetics and beautiful lines as there are no unsightly hinges or hardware, just a simple handle on the main door. When closed, the door interlocks together to create a solid wall with high security.
In front doors we use the reinforcement not less than 2mm thick
The mechanical compaunds of welding corners secure a lifetime of the front doors
The germans locks BKS secure your door
The double rubber seal protects against draft
Thermomodule in the treshold prevent freezing through in the winter

The German hinges design by Dr. Hahn hold the load up to 140 kg
Please contact us for your next project, no matter how big or small, so we can provide you with competitive pricing. You will be very pleased with the pricing and end result